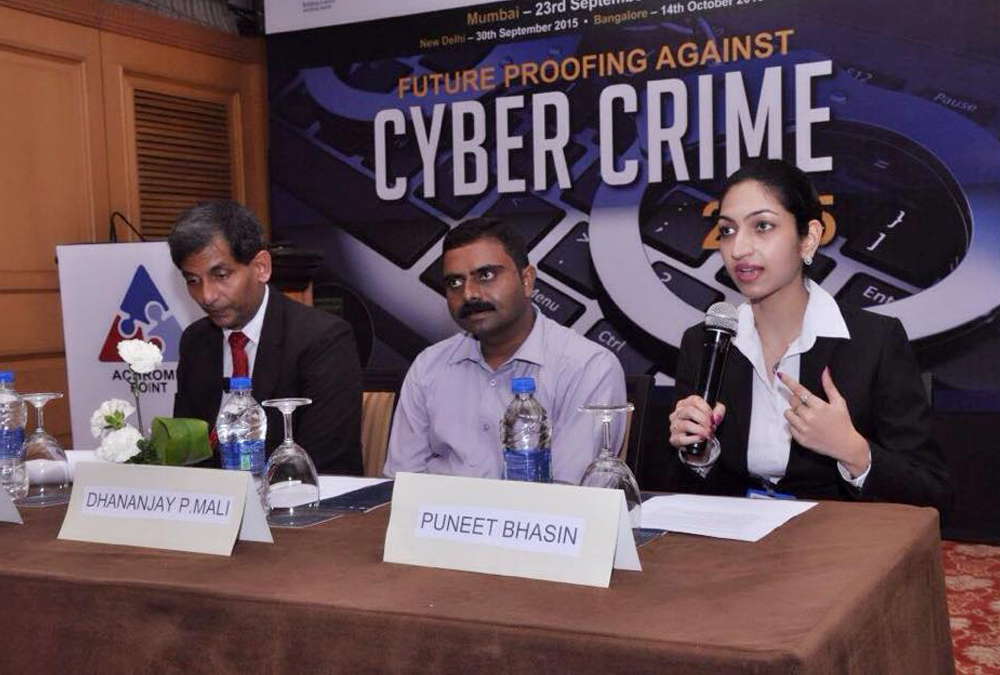 Advice to Government Bodies and Policy Formulation: She advises the Rajya Sabha Committee on formulation of Online Pornography Laws in India. She is an advisor for various aspects of Cyber laws/Internet laws to Government bodies and legislature.She is also a member of the Cyber Security Task Force Working Group on Skills and Policy Development for the Digital India Movement; this is an initiative by Data Security Council of India in collaboration with NASSCOM.
Founder of Cyberjure Legal Consulting: This Company was founded by her in 2011 and is a pioneer and leading Company in India in Cyber Laws.  With over 300 clients, consisting of Nationalized Banks, Major Indian Companies from all sectors,  MNCs and also individuals who are victims of Cyber crimes.
Honorary Professor/Lecturer on Cyber Laws at Premier Law colleges and B Schools in India: She is an Honorary Professor/Lecturer for imparting knowledge to students on various aspects of Technology Laws. She has conducted courses at Welingkar in E-commerce law and Legalities in Starting Your Own E-commerce Business. She is also an Honorary Professor at Government Law College (Mumbai) which is the 1st Law College in India and is India's Premier Law School. She is also an Honorary Professor at NMIMS Law School in Mumbai. She is the Mentor and Course Author for the Certificate Course in Information Technology Laws Course offered by National Institute of Juridical Sciences (NUJS) , West Bengal in association with iPleaders. She has conducted many Workshops and Short Credit Courses at most of the National Law Universities and prominent B Schools in India.
Consulted by Universities and Educational Organisations to Frame Cyber Law, Privacy Law and Cyber Crime Investigation Courses: She has been Consulted by many Universities and Colleges in India to frame Courses in the Technology Law space and also Courses in Cyber Forensics and Cyber Crime Investigation.
Cyber Safety Awareness Drives in Companies through Seminars and Workshops: She is an active participant in Cyber Safety Awareness and Drives and is working towards educating people with respect to Cyber Crimes so that they do not fall prey to online predators.
Cyber Safety and Prevention Workshops for Children conducted in Schools all over India: She is a pioneer in educating Children about Cyber safety and has conducted multiple programs in schools all across India to educate children about safe use of the Internet.
Currently working on setting up an NGO to make Legal Aid accessible to the Under Privileged Sections of Society: She strongly believes that knowledge of the law empowers an individual to lead a dignified life and in furtherance of her belief she is currently in the process of setting up an NGO which is going to work in the space of Legal Awareness and providing Legal Aid to Underprivileged Sections of Society.
Currently Authoring a Series of Books covering all aspects of Cyber Laws to be published by 2 Leading Publication Houses of India: She is currently authoring books on various aspects of Cyber laws and the same will be published in early 2018.
Founder of Cyberjure Academy: Cyberjure Academy is her vision to make Cyber Law Education accessible to all. The academy conducts Training sessions on various aspects of Technology laws and will soon be launching Online Courses in this space too.
Trainer to C-Suite Executives: She has personally conducted Training sessions for the C-Suite Executives of Leading Companies and Banks in India to enable them to understand and mitigate the Risks of Cyber Crimes to the fullest.
Guest Lecturer at Foreign Universities: She is a Guest Lecturer on Cyber Security Laws at Illinois Institute of Technology, U.S.A.